Band News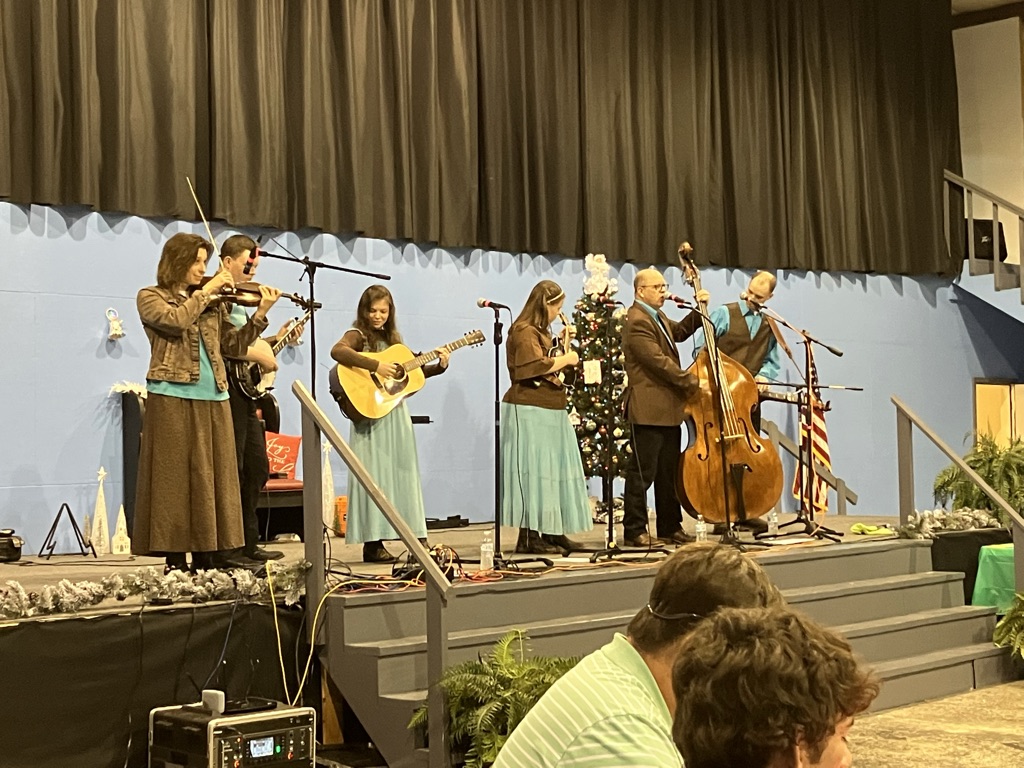 Happy New Year from Headin' Home! 🪕
Hello everyone! 🎶
We hope your 2023 is off to a wonderful start! We're looking forward to an exciting new year filled with music and new opportunities! 😁 "It is of the Lord's mercies that we are not consumed, because his compassions fail not. They are new every morning: great is thy faithfulness" (Lamentations 3:22-23).
December Recap ☃️
In December, we performed at an outdoor festival in Nahunta, GA; a church banquet in Odum, GA; and a wedding in Woodstock, GA. We were also blessed to have more time for practice and home projects, after 6 consecutive weekends on the road in October & November. December was a more restful pace and got us ready to kick off the new year with a bang!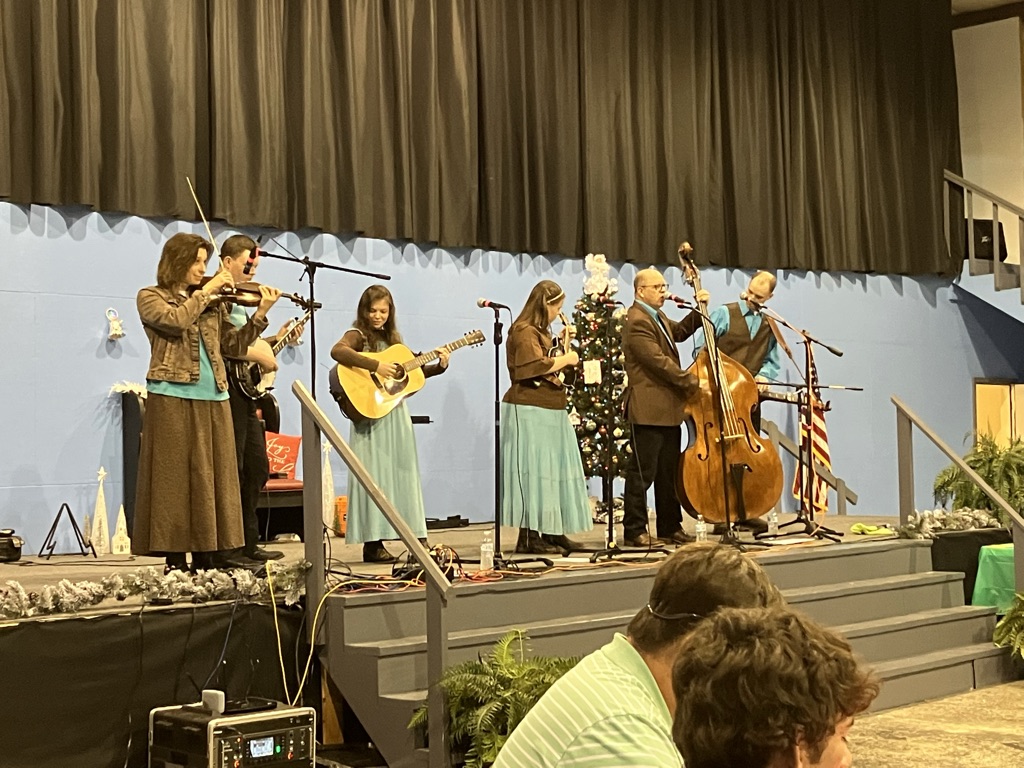 What's Coming up in January! 🪕
This Friday we're playing a private event in Richmond Hill, GA, and then we'll be down in Hoboken, GA over the weekend for the monthly Friends of Twin Oaks jam. Come join us for a good time with friends, food, and lots of bluegrass!
We're heading to Nashville at the end of this month for the SPBGMA (Society for the Preservation of Bluegrass Music in America) Convention. This 4-day annual festival is held at the Music City Sheraton Hotel. Our band will be showcasing twice, besides the band competition: Friday the 27th at 10:00 PM and Saturday the 28th at 11:40 PM. The Friday night showcase is in Willie Wells's room, of Bill's Pickin Parlor and The Blue Ridge Mountain Grass band. We appreciate them giving us the slot to perform!
The Saturday night showcase is in our own room which we're hosting! Also performing will be our friends The Waddington Brothers from North Dakota, The Baker Family from Missouri, Joshua Kemble & Ranger Alliance from Michigan, and The Brothers Five (from Georgia 😉)! Check out our flyer below!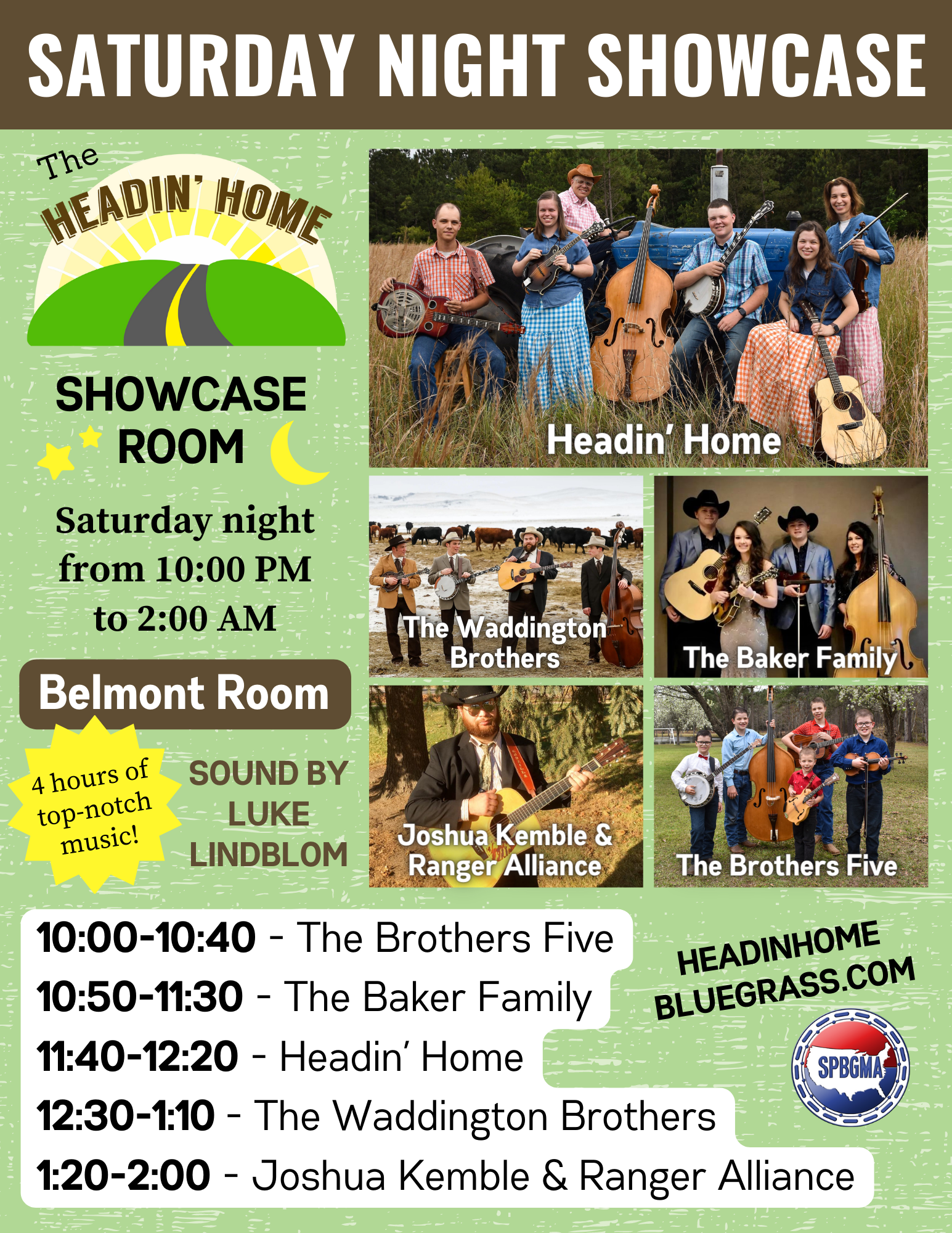 More Dates and Big News for 2023! 🎤
We're actively working on our schedule for 2023 so this is just a partial announcement (more to be added in upcoming emails, and check our website as well!), but here are some important dates on the calendar so far for the first half of this year…
Saturday, February 25: Baxley, GA – Holland Music Place

Sunday, March 5: Waynesville, GA – Waynesville Baptist Church

May 28 and 29: Branson, MO – Silver Dollar City Bluegrass & BBQ Festival, Gazebo Stage
Saturday, June 24: Bloomingdale, GA – Randy Wood's Pickin Parlor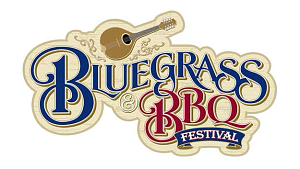 We're also excited to announce our new booking agent for 2023! We've partnered with Carol Cassetta of Inspirational Promotions, Inc., member of the Southern Gospel Promoters Association, to be our agent for churches and gospel music functions. (We will continue to handle bluegrass event bookings ourselves.) Carol is an experienced promoter of gospel music artists and we look forward to working with her in the months ahead!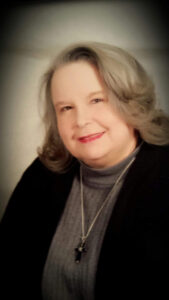 Headin' Home Fest 2023 in Swainsboro, GA: Get Your Campsite Now! 🏕
The 2nd annual Headin' Home Fest will be November 9-12, 2023 at the Georgia Sports Arena in Swainsboro, GA! Tickets are on sale now for the special advance price, and campsite reservations are open on our website! That's right – you can reserve your campsite AND your ticket online at headinhomefest.com! The interactive online map even lets you choose your campsite. Band lineup will be announced soon!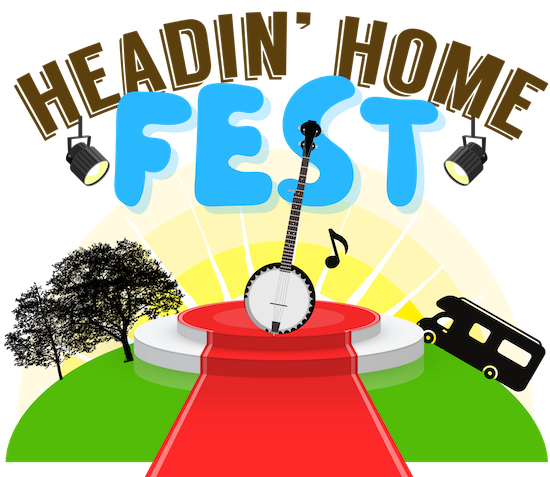 We want to thank each one of you for your friendship and support of our band, family, and music! Your encouragement has meant the world to us. We are so excited to enter a new year and discover the new doors God has for us. We wish you God's fullest blessings, and can't wait to see you soon!
💙
-Headin' Home
Jon, Marina, Luke, Libby, Lucy, & Timothy Lindblom
headinhomebluegrass.com
"Of old hast thou laid the foundation of the earth: and the heavens are the work of thy hands. They shall perish, but thou shalt endure: yea, all of them shall wax old like a garment; as a vesture shalt thou change them, and they shall be changed: But thou art the same, and thy years shall have no end. The children of thy servants shall continue, and their seed shall be established before thee."

Psalm 102:25-28