Band News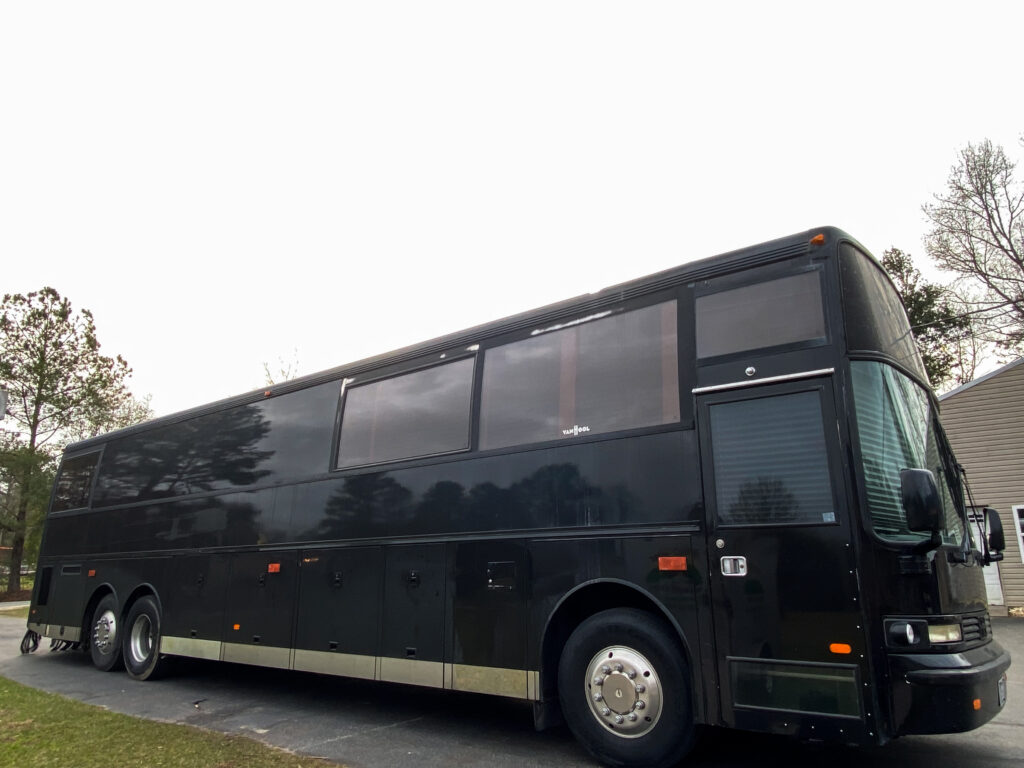 Meet our new BUS: the newest member of the band!
Introducing . . . TATER!
The Lord has provided a new bus for us: a 1996 45-foot entertainer coach, all the way from Boise, Idaho! 😀
Jon and Luke flew out to Idaho this past Thursday and then made the 4-day drive to bring Tater home! 🙂 The new coach has enough bunks for our whole crew; so everyone finally has their own bed!! We are so thankful to God, and VERY excited to see where He's going to take us down the road in our new little home on wheels! 🎶🙏
NEW ON THE SCHEDULE!
We're excited to be playing the Withlacoochee Bluegrass Festival in Dunnellon, FL next month! We'll be performing Saturday, March 18th at 12:00 and 5:00 PM. We're sharing the schedule that day with The Little Roy & Lizzy Show, Danny Paisley, and Tennessee Bluegrass Band. Other bands throughout the 3-day festival include The Kody Norris Show, Seth Mulder & Midnight Run, Junior Sisk, Fast Track, and more! Withlacoochee is such a great festival at a beautiful campground. We couldn't be more thrilled to be part of the lineup for their spring event. Get your tickets here!
Also, here's our full 2023 calendar so far! We're still actively adding dates so keep an eye on our website and future emails!
THIS WEEKEND! Fri, Feb 24 at 7:00 PM – Boulogne Holiness Church in Hilliard, FL – Benefit concert for Matt Clark and family, who are battling severe health challenges. Donations will be collected to bless and support this family. Please join us!
THIS WEEKEND! Sat, Feb 25 at 6:30 PM – Holland Music Place in Baxley, GA – One of the most fun music venues in south GA! Great food and fellowship! Tickets $7 at door.
JUST ANNOUNCED! Fri, March 3 at 6:30 PM – Statesboro Primitive Baptist Church in Statesboro, GA
Sun, March 5 at 11:00 AM – Waynesville Baptist Church in Waynesville, GA – Outdoor tent revival
Sat, March 18 at 5:00 and 12:00 PM – Withlacoochee Spring Bluegrass Festival in Dunellon, FL
Sat, Apr 22 – Private Event in Savannah, GA
JUST ANNOUNCED! Thurs, May 3 at 9:00 AM – North Walterboro Christian Academy in Walterboro, SC – The Brothers Five will be performing too!
Fri, May 5 – Sat, May 6 – Holiday Hills Music Park Bluegrass Festival in Laurel Hill, FL – With The Grascals, The Kody Norris Show, Blue Holler, and MORE great bands!
JUST ANNOUNCED! Sun, May 7 at 11:00 AM – Pine Grove Baptist Church in Quincy, FL
Sun, May 28 – Mon, May 29 – Silver Dollar City Bluegrass & BBQ Festival in Branson, MO – Gazebo Stage
Sat, June 17 at 8:00 PM – Randy Wood Guitars in Bloomingdale, GA
JUST ANNOUNCED! Sun, July 23 at 6:00 PM – Glyndale Baptist Church in Brunswick, GA
Sat, Oct 14 at 10:00 AM – Waynesville Church of God Car Show in Waynesville, GA
Fri, Oct 27 at 8:00 PM – Bill's Pickin Parlor in West Columbia, SC
Fri, Nov 10 – Sat, Nov 11 – 2nd Annual Headin' Home Fest in Swainsboro, GA
We want to thank our booking partner, Inspirational Promotions, Inc. and encourage any churches to give Carol Cassetta a call if you're interested in having Headin' Home bring music to your church! Other venues, feel free to contact us directly.
Come jam with us at Randy's Pickin Weekend! 🪕
We always look forward to Randy Wood's Annual Pickin Weekend, coming up March 31 & April 1. There's tons of great jamming just minutes from our home in Bloomingdale! We hope you can come hang out with us and enjoy the picking this year! Details on the Randy Wood website.
We look forward to seeing each of you soon! 🙂 Thank you all, as always, for your love, prayers, friendship, and support!
God bless you,
-Headin' Home
Jon, Marina, Luke, Libby, Lucy, & Timothy Lindblom
Headin' Home Fest 2023 is November 9-12 in Swainsboro, GA! Get your tickets and campsites now at headinhomefest.com!
Subscribe to our mailing list to get this news delivered right to your email inbox! >